This page is about the patirchev's VOCALOIDs song "Angelfish", not to be confused with the luz's original song "Angelfish", composed by Nem.
Song covers

>

Song choruses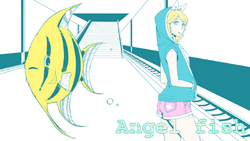 Song title
the Angelfish
(エンゼルフィッシュ)
-Kagamine Rin-


 | 

Producer(s)
Music, Lyrics: patirchev
Illustration: Rem
Mastering: Yoshida Shogo (Aintops)
Male Covers
Edit
album

YT

|

NND

YT

|

NND

YT

|

NND

YT

|

NND

Rib
Female Covers
Edit
Other Covers
Edit
Ad blocker interference detected!
Wikia is a free-to-use site that makes money from advertising. We have a modified experience for viewers using ad blockers

Wikia is not accessible if you've made further modifications. Remove the custom ad blocker rule(s) and the page will load as expected.