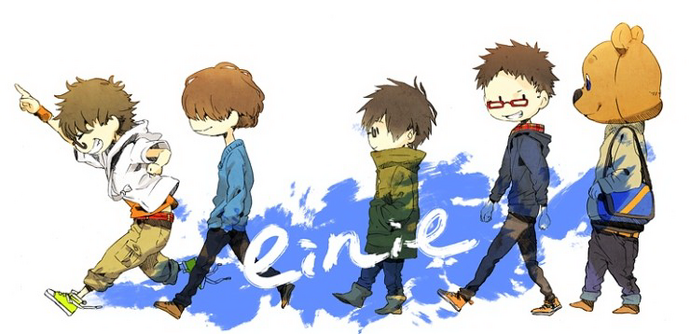 einie as seen in their twitter banner. Illust. by Kurono Kuro (くろのくろ)
einie (アイニー) is the Japanese indie band with 2 lead vocals who are Natsushiro Takaaki and Eve. Instead of covering songs, they compose and write lyrics for their own songs.
Natsushiro Takaaki (Lead vocals & Composition)
Eve (Lead vocals & Composition)
iida (Arrangement & Guitar)
nskw (Arrangement & Guitar)
futa (Bass)
ueno (Art direction)
emumelo (Video direction & Editing)
List of Songs
Edit
Discography
Edit
Ad blocker interference detected!
Wikia is a free-to-use site that makes money from advertising. We have a modified experience for viewers using ad blockers

Wikia is not accessible if you've made further modifications. Remove the custom ad blocker rule(s) and the page will load as expected.