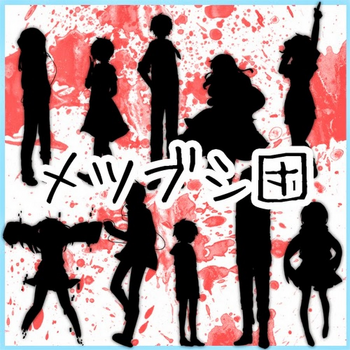 Members without a page on this Wiki: Kobato, Kuro Toma, Hajime, Yuro, Mov Neko, Ita Chocolate, Kakikukeko, Amaroudai, Dankuri, Mugiyama, Asagen, Vaz and Tall
Other members: Nero (Illustrator), Mukouyama (Illustrator), Nyaro (Illustrator), Hana (Illustrator & Animator), Morishika (Illustrator), Yuka (Illustrator), Towa (Animator), Kwong (Mixer), Lope (Mixer) and Furetan (Mixer).
Metsubushi Dan (メツブシ団) is a group of utaite, as well as illustrators, animators and mixers, who do koemane song covers - sometimes with added serifu - and fandubs for fan-made videos of the Mekakucity Actors/Kagerou Project anime series.
List of Songs
Edit
Media in category "Category:Metsubushi Dan"
Ad blocker interference detected!
Wikia is a free-to-use site that makes money from advertising. We have a modified experience for viewers using ad blockers

Wikia is not accessible if you've made further modifications. Remove the custom ad blocker rule(s) and the page will load as expected.