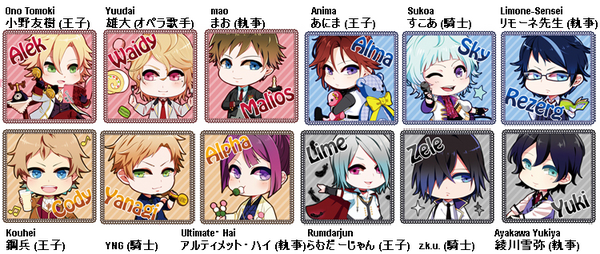 Nico Kingdom
consists of these Utaite.
The group is divided into 4 "countries", and in each "country" (国), there the roles of the "prince" (王子), the "butler" (執事), and the "knight" (騎士)/"opera singer" (オペラ歌手). The utaite also are named differently
The countries are "Schwungvoll" (meaning energetic) (red colored), "Reizvoll" (meaning appealing) (blue colored), "Ausdruck" (meaning expression) (black colored) and "Grandioso" (yellow colored)
Members without a page on this Wiki: Ono Tomoki, Ultimate・High, Score, z.k.u., YNG
Except "Grandioso" all country names are german.
---
Pages in category "Nico Kingdom"
Media in category "Category:Nico Kingdom"
Ad blocker interference detected!
Wikia is a free-to-use site that makes money from advertising. We have a modified experience for viewers using ad blockers

Wikia is not accessible if you've made further modifications. Remove the custom ad blocker rule(s) and the page will load as expected.