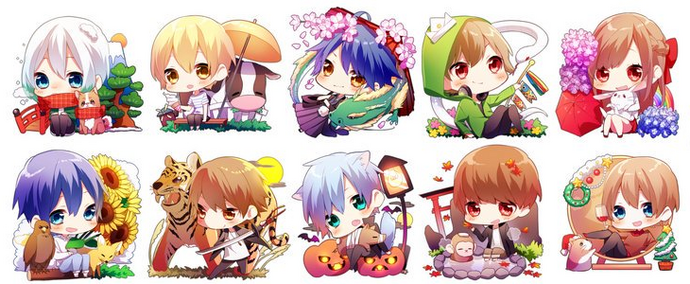 First row (from left to right): SILVANA, Houkago no Aitsu, Stungun, Shakemii, Ribonnu.
Second row (from left to right): Risru, Maruguri, Honkon, Meychan, Sou.
Illust. by Laru (らる)

Nico Link is the doujin circle who gathered from the live has the same name in March 2016. They released a single CD in this event, singing the song Connecting. One year later, a full album of the group releases in April 2017.
The utaite in the group: SILVANA, Shakemii, Stungun, Sou, Houkago no Aitsu, Honkon, Maruguri, Risru, Ribonnu, and Meychan. The guest member Pusu appearing in Nico Link CD 1 will not take a role in the main album in 2017.
Discography
Edit
Pages in category "Nico Link"
Ad blocker interference detected!
Wikia is a free-to-use site that makes money from advertising. We have a modified experience for viewers using ad blockers

Wikia is not accessible if you've made further modifications. Remove the custom ad blocker rule(s) and the page will load as expected.