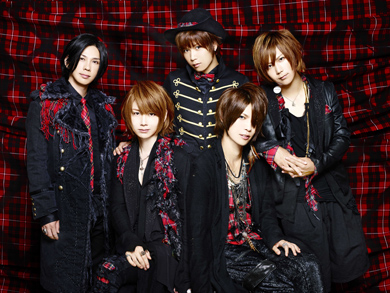 From left to right: Dasoku (former member), Pokota, koma'n, Mi-chan and Kettaro
√5 (Root Five) is a vocal unit.[1]
Musunde Hiraite Rasetsu to Mukuro is not an official single released by the group, and was uploaded before the group's debut.
It has been announced[2] that they will be having an official regular show on Nico Nico Namahousou starting in June. The namahousou is held on Wednesday every 2 weeks.
It was announced that Dasoku will be retiring from Root Five on October 31st, 2015 and will continue on as a four member group starting November of that year. [3]
List of Songs
Edit
Commercially Featured Works
Edit
"ShinseiΩShinwa (Next Generation)" (NewΩMyth (Next Generation)) - Released on November 02, 2012

2nd Opening of the TV anime Saint Seiya Omega




"Kimi no Mirai" - Released on November 19, 2014

17th Ending of the anime Fairy Tail



Discography
Edit
References
Edit
---
Pages in category "RootFive (√5)"
Ad blocker interference detected!
Wikia is a free-to-use site that makes money from advertising. We have a modified experience for viewers using ad blockers

Wikia is not accessible if you've made further modifications. Remove the custom ad blocker rule(s) and the page will load as expected.