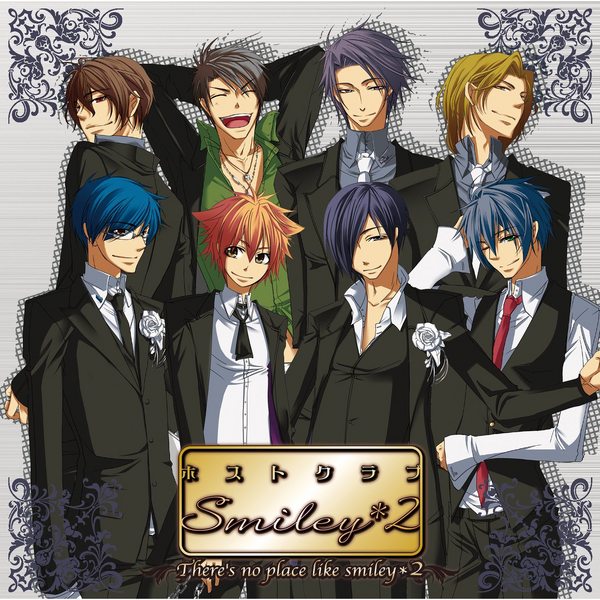 Top row, from left to right: ASK, Gero, Pokota and Dasoku
Bottom row, from left to right: Faneru, Kogeinu, Mucchi and clear
Host Club Smiley*2 is a unit, which released drama and vocal albums, their concept being a host club.
The host clubs are in Kantou and Kansai.
Dasoku:
Owner of the Smiley*2 Host Club in Kantou
He is said to have once earned one 100 Million Yen in one night.
clear:
He is the number one host in Kantou.
He is called Prince (王子様/Ouji-sama).
His sweet voice and laugh are attractive.
Pokota:
He is the newest host of Kantou.
He is a threat.
He was longing to be the host owner.
Mucchi:
He is a newcomer host of Kantou.
ASK:
He is the number one host in Kansai.
Faneru:
He is the son of the owner of the host club in Kansai.
He is in university and helps out with the family business.
Gero:
He is the number two host in Kansai.
He earns the most.
Kogeinu:
He is a newcomer host of Kansai.
He knows Faneru and ASK.
Discography
Edit
---
Pages in category "Smiley*2"
Media in category "Category:Smiley*2"
Ad blocker interference detected!
Wikia is a free-to-use site that makes money from advertising. We have a modified experience for viewers using ad blockers

Wikia is not accessible if you've made further modifications. Remove the custom ad blocker rule(s) and the page will load as expected.