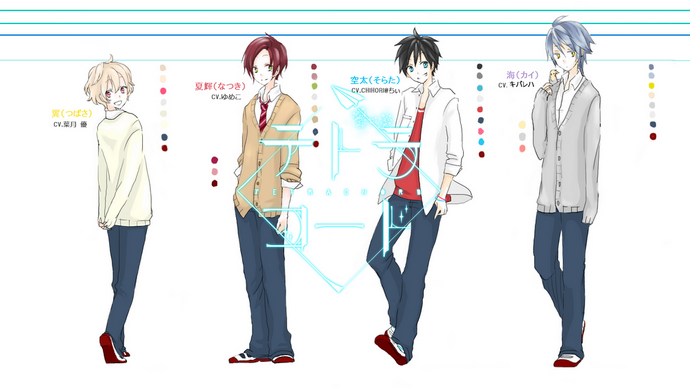 From left to right: Tsubasa (Hazuki Yuu), Natsuki (Yumeko), Sorata (CHIHORI), and Kai (Kibareha) Illust. by Yumeko
Tetra Chord (テトラコード) is the group of 4 female utaite who play voice acting as 4 original male characters. The group is produced by Yumeko, started from January 2016; while Kibareha is the community manager and Hazuki Yuu is the radio manager.
List of Songs
Edit
"Resound." (2016.05.14)
"Sayonara Dake ga Jinsei da" (Life is Only Full of Goodbyes) feat. Miura Natsuki (Yumeko) (2016.06.04)
Pages in category "Tetra Chord"
Media in category "Category:Tetra Chord"


Ad blocker interference detected!
Wikia is a free-to-use site that makes money from advertising. We have a modified experience for viewers using ad blockers

Wikia is not accessible if you've made further modifications. Remove the custom ad blocker rule(s) and the page will load as expected.