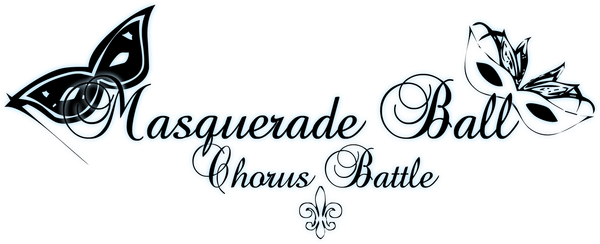 The Masquerade Ball Chorus Battle (MBCB) was hosted on December 13, 2012.
The participants' identity had to be hidden behind a secret alias, including singers, mixers, animators, artists and judges.
Each group had to create a story based around the given theme for each round. The story was to be presented in the song, the video, written separately or any other way.
Progression of rounds were decided by 80% judge decision and 20% audience vote. The judges were revealed to be Cherri, Nipah, Tohru and AmaitoFuu.
The winner for the first place got a visual novel featuring their group's story, with their own character art. Additionally, the first as well as the second place got the visual novel two weeks before the public release, as well as a guide.[1]
Additionally, at the end of round two, those who didn't pass could participate in a side competition, where solely the audience determines who the winner will be. The reason was to give the groups a chance to complete their stories.
Participating Groups
Edit
Round 1 Entries
Edit
Theme: Entrance
Round 2 Entries
Edit
Theme: Dance
Round 3 Entries
Edit
Theme: Socialize (tag teams)
Round 4 (Final) Entries
Edit
Theme: The Unmasking
"Sweet Sweet Cendrillon Drug"
feat. ↑Twisted ǝʇɐɟ↓

"Hetakuso Utopia Seisaku"
feat. wwwwwwwwww
"Tsukihane"
feat. Carmina Natura
"Lost Destination"
feat. lilum album
"Watashi Rice Teishoku Tabe ni Kita"
(Side competition entry)
feat. KirinHeaven
lilium album as seen in their final round side competition entry of "
Lost Destination
"
lilium album as seen in their round 2 entry of "
Silver Girl
"
Bacio Della Morte as seen in their round 1 entry of "
VII
"
CLUB Twiligt Omen as seen in their round 1 entry of "
SECRET DVD
"
Bag of Tricks and Treachery as seen in their round 1 entry of "
Ikasama⇔Casino
"
External Links
Edit
References
Edit
Ad blocker interference detected!
Wikia is a free-to-use site that makes money from advertising. We have a modified experience for viewers using ad blockers

Wikia is not accessible if you've made further modifications. Remove the custom ad blocker rule(s) and the page will load as expected.