Smiling
Talk

9
499pages on
this wiki
Please read tutorial page before you start editing.
Please edit/add information to the page by following the designated layout.
If you have trouble editing, you can always visit the Forum, or contact an admin. We'll happily help with anything
This article is currently being improved.

We apologize for any inconvenience in the meantime. Please help improve the standard of this wiki by adding additional information about the singer or by using the talk page to discuss the topic.
Male Singers
that, clear, Yonji, perfumen, Hiradon, ill.bell, Rap-bit, Creamzone, Piko, Sekihan, Ten, halyosy, Tourai, Dasoku, Nitmegane
Female Singers
Prico, Valshe, Mitani, Hong Kong, Mitani Nana, che:Sakurai, Hitori, Ritsuka
---
Male Singers
Shouta, Touyu, Kony, Yuuto, Ryo-kun, Remyu, Han, OLD, K-ta, Glutamine
Female Singers
Kuripurin, eclair, Guriri, ENE, Komatsuna, Nayugorou, Meeko, HanyCham★
---
Male Singers
Gakurin, Taiyou, Nappa, Makaronin, Hassui, Pogo, Mizo, Riz, Rin
Female Singers
saki, Noco, ica, 70, Cheburashka, Bell, Bornyari, Haruco, Konnyaku Hatake
---
Male Singers
ShoutStyle, Rash, Zanto, Shinshakaijin, Alilem, Rumdarjun, Soraru, ShounenT, Mi-chan, A24, Kouhey, Limone-Sensei, Purikuma

Female Singers
Lon, Kakichoco, Ougimachi Ruka, Rishe, Wataame, Chachako, Shinobu, Hoku, F9
---
Male Singers
Koma'n, Suzume, Coto, Nekonata, Ivu, Shibamaru, Utsubo Atsushi, Keysuke, Kane Takeshi, ROS, Yuzusuke, Andango, Yazawa Nekokichi, OLD

Female Singers
Ameiro, Amane, ( ´゚д゚`), Metero, Ranko, Yuta, Ranata, Ai, Momoka Satsuki, Cocolu, Ringo★
---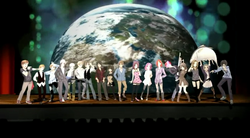 Song title
Smiling ~ Show Time! ~

Producer(s)
Illustration - Poaro

Male Singers
Bun, Rib, Yuge, S!N, Denirow, Amatsuki, Kaito, Owata, Iincho, Boron

Female Singers
MISAKI, Miihamu, Utsusemi, kalon., Kano, FISH
---
Male Singers
IGA, Raruka☆, natsuki, Seven-san, Tomato, Iru, sphere., LOLI.COM, Low, Hiroto., Ramesses II, Benzou, RyoN, Kureha, Tory-san, vipTenchou
Female Singers
okogeeechann, +*Mirin, Yukisaki, yukarin, JUN.H, Ririnyan, Akatsuki, Fuka*3
---
Male Singers
Mimy, MoroQ, Swy, Ponji, rick, Sonotoki, Suzume, Akatin, Arukuseikyouiku, srip, Bis, Ashinaga Ojisan, Yorukichi, Jiman, Faibon, Shiroiienosora, Samuraiman
Female Singers
Yueporu, Kurokun, Daikon, Majiko, RK✿, Ali, Miteki, Nico, Nata
---
Male Singers
Misakichi, Shiki, SIN, Shiina, OssanP, Kouhey, AT, excesior, Hue
Female Singers
Nihonmai, oma, Snow, Yumenyako., Sorako, 000, Choco
---
Male Singers
Kimi, Roy, NMTJ, Mugiyama, Furetan, Kedaru, Chekera, Haru, Alcard, Huma, Rentan, Valkyrie, Vanilla Totoro, Yanda
Female Singers
Ridhia, Leychal, YUKI★, Chiro., Guasshu, Kimidori, Hoshiume, Kogarashi, Miihamu
---
Male Singers
Sutari, Duran, Beyan, Ichika, Gajumaru, kain, @Mugicha, thin, Denki Unagi, Issa, Kou~, U5
Female Singers
Hakuto, Nagisatou, Atsuka, Chiiko, Tikin, Kuu, Influen the Germ, Nato
---
Male Singers
Galyu, Ashikubi, Koppe, Eve, Chiruri, Kart, TAKARA, Kumakuma, nady, Darumaya, S!N, Renoa
Female Singers
Sakuno, Conoi, YOME, Chiko, MA-NA, Minipuni, Riu, 38 ban, Mihomi, Keropi, yu-k@
---
Male Singers
Urata, Inocchi, Konakona, Kyouichirou, Kou, Urara, DC, Kaguratti, ShounenT, rubi-, Hamami, Pino16g
Female Singers
96Neko, 456, Yukimaru, mmm, Arata, Ossan, Takanaiyo, Ageha, Chako, Yukisaki
---
Song title
Smiling ‐World Edition‐

Producer(s)
Illustration - Manohito, Miyurika, Asuna
Rap Lyrics - Yuna
Movie - Not-116
Male Singers
Hiduki, Yusuke, fair, Do-pan, Kou, Mashiro, Guren, Aidaaku
Female Singers
Papiko, Ikasan, Natsuichigo, Shirayoru, Senya, Selene, Pochakko, Mi-suke